Jody Hamaker Childs began riding at age seven and by age thirteen, she was teaching both youngsters and adults. She has trained with a Calvary Officer, four Equestrian Olympians, and several other notable trainers from around the world.

Her focus was on hunters and jumpers and in 1997 "Jody's Training Stables" was born. She delighted in watching youngsters who had never ridden before, grow into champion riders.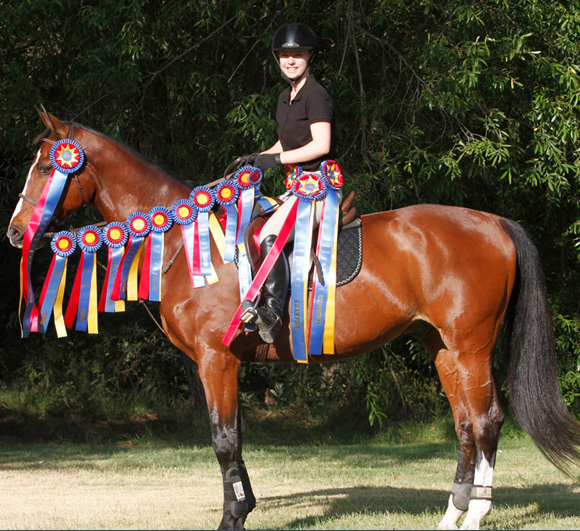 There are many breeds that Jody has successfully trained; Thoroughbreds, Quarter horses, Arabs, Paints, Warmbloods, Paso Finos, Mustangs, and of course her personal favorite, the Peruvian Paso horse. In 2002 Del Dios Peruvians was born when she purchased a Peruvian horse and found a thrill and a passion that she now shares with her students of all ages. These horses have a ride that is as smooth as glass and a temperament that is extraordinary.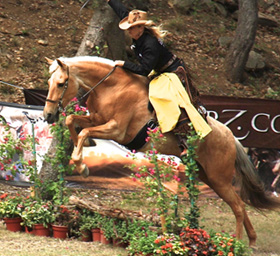 Jody enjoys the opportunity for creativity with the Peruvian Horse. Here is a sample:
Jody became well known when her horse, Me Llamo Altanero, a.k.a. Junior, and she began doing American Competitive Trail Horse Association (ACTHA) competitive trail rides. It was the perfect venue to display how versatile the Peruvian is on the trail and in competition.
As a result, Junior became an ambassador for the Peruvian Horse breed. The North American Peruvian Horse Association (NAPHA) recognized his achievements and thus he became the 2010 NAPHA NATIONAL HIGH POINT TRAIL HORSE.
This led to an audition for a reality TV show, for AMERICA'S FAVORITE TRAIL HORSE.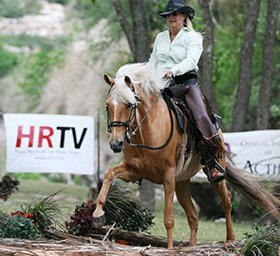 With a flawless audition and a fun freestyle, Junior was one of only 100 horses nationwide chosen to be featured on the show. The show aired on HRTV in the fall of 2011 and was seen by viewers online all over the world.
With numerous championships Jody continues to excel and enjoy Peruvian horse showing and other competitions with gaited horses.
"A pony is a childhood dream. A horse is an adult treasure." --Rebecca Carroll
---
---